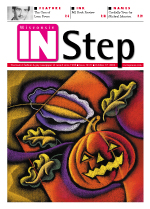 Issue: 19.21, October 29, 2002
The Case of Leon Rouse
Wisconsin Gay Rights Pioneer Leon Rouse Languishes in Philippines Prison
In February of this year, Wisconsin gays and lesbians celebrated the 20th anniversary of the signing of Wisconsin's historic gay rights measure. Wisconsin IN Step has learned that at the same time, one of the chief architects of that law was - and remains - locked in a prison in the Philippines for a crime he says he didn't commit.
In 1982, Milwaukee gay activist Leon Rouse along with [then] Wisconsin State Rep. David Clarenbach and others were widely credited with helping push through the first law in the country which prohibited discrimination in employment, housing and public accommodations on the basis of sexual orientation. It was a landmark achievement for Wisconsin and the nation. Rouse and Clarenbach were regarded as the two most important figures in that historic drive for equal rights in Wisconsin.
After years of activism at the University of Wisconsin-Milwaukee and in the statewide lobbying effort and after an unsuccessful bid to become a Milwaukee county supervisor, Leon Rouse left Milwaukee in the late 1980s. He spent time in Hawaii and had reportedly taken a job on a Pacific cruise ship.
Community members speculated for years about what had become of Rouse. Rumors persisted that he had run afoul of the law. Now comes word that Rouse has spent the last seven years languishing in a Philippine prison on a serious morals charge.
Appeals for help by friends and family members to the Philippine and United States governments have been largely rebuffed.
Accounts of the events which led to the arrest are sketchy. Wisconsin IN Step has been able to determine that Rouse was detained on Oct. 10, 1995 for violation of the Philippines' Child Abuse Law for allegedly having sex with a 15 year old boy. He was convicted in 1998 and received a sentence of 10 to 17 years in prison.
In a written statement from Rouse obtained by IN Step, Rouse insists that the charges against him were false. He claims that an undercover Philippine police official attempted to extort money from him in order to have the case dropped. Rouse believes he was set up and only charged because he refused to pay money to gain his freedom. He continues to deny any guilt in the crime.
According to Rouse's statement, the prosecution never produced a complaining witness, a victim, a birth certificate or other proof of age of the minor or any eye-witnesses.
Statements by an examining doctor who testified for the prosecution may support Rouse's claim. According to Rouse, the doctor testified at trial that there was no physical evidence the boy had been a victim of sodomy - despite prosecution claims that the boy had been raped.
A hearing on an appeal to the Philippine Supreme Court on Rouse's sentence, originally scheduled to be completed by May of this year, has been delayed and may be derailed. The judicial system in the Philippines is widely regarded as slow and few such cases are decided expeditiously.
Rouse has been actively pursuing his case from prison, personally and through family and friends, contacting several members of the U.S. Congress for help. Rouse and supporters wrote letters to Rep. Gerald Kleczka, Rep. Tom Barrett, Rep. Nancy Pelosi, Rep. Tammy Baldwin, Sen. Russell Feingold, Sen. Herb Kohl and Sen. Daniel Inouye. Personal pleas were also made to the Philippine Ambassador to the United States and other government officials, all to little effect.
In recent years, Rouse also corresponded with [then] Milwaukee Archbishop Rembert Weakland. Weakland wrote a letter to Cardinal Jaime Sin of the Philippines, asking for help on Rouse's behalf.
Weakland's support was seen by many as instrumental in the effort to pass AB70, the civil rights measure prohibiting discrimination based on sexual orientation. At that time, Rouse - for months in advance - sat in the front row of the church at which Archbishop Weakland was performing mass so he would become familiar to Weakland. Then, Rouse eventually approached Weakland in regards supporting AB70.
Indeed, a picture of tenacious activism is painted by those who knew him during his time in Wisconsin. Many described him as "pushy" but all described him as exceptionally dedicated to LGBT rights in Wisconsin.
"Leon was as pugnacious and loveable, charming and personable, principled and tenacious," said Mark Behar, a Milwaukee activist who has followed the Rouse case. "Without Leon's hard work and dedication, Wisconsin would not have had a gay rights law in 1982, and we would not have been the nation's first gay rights state. His work to bring together diverse religious leaders from around the state was the driving force for passage of our rights."
Rouse also remained in contact with colorful Milwaukee activist Ralph Navarro. Navarro tried to assist Rouse with the case until his death in 2001. After Navarro's death, Behar picked up some of the pieces because he didn't want the case to be dropped.
"I am shocked and saddened by Leon's misfortune." Behar said. "What horrible irony, that one of Wisconsin's brightest and most resourceful gay activists has been made into a political prisoner in a homophobic, right wing banana republic for more than 7 years."
Prison life in the Philippines is apparently harsh. Prisoners at the New Bilibid Prison in Muntinlupa City where Rouse is being held receive a single meal daily consisting of a cup of rice and a little fish. Rouse has few visitors and only periodic contact with U.S. Embassy staff in the Philippines. The contacts and appeals to public figures seem to have made little headway on Rouse's case which now appears stalled.
"If Rouse was railroaded and the charges are not true, he should not be there," said long-time Milwaukee activist Eldon Murray. "It is a shame that someone who was so responsible in getting the law changed in Wisconsin is rotting away in prison in a foreign country."
Rouse apparently refused a Philippine Department of Justice offer to deport him in exchange for accepting the guilty verdict with the stipulation that he never return the Philippines. However, Rouse stated that he may reconsider his position on deportation if the Philippine Supreme Court rules against his appeal.
"Rouse is a very tough position," said one activist familiar with the case. "The timing couldn't be much worse. Especially, considering the current social climate regarding child sex cases."
IN Step will continue to follow this case as it develops. Those interested in assiting the Rouse case are encouraged to contact Mark Behar (414) 277-7671 or e-mail: mpbehar@facstaff.wisc.edu).